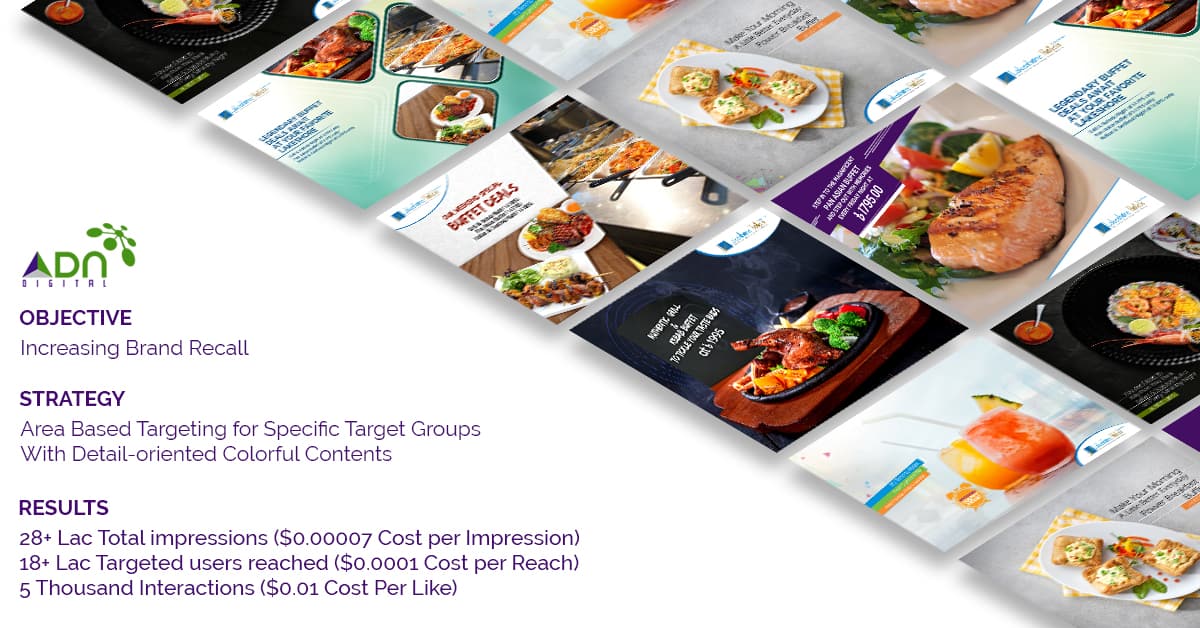 CLIENT
Lakeshore Hotel Gulshan
INDUSTRY
Hotel/Restaurant (B2C)
BACKGROUND
Lakeshore Hotel Gulshan is a leading Luxurious Business Boutique Hotel in Bangladesh. Their rooms and suites offer plush bedding and ergonomic workspaces, flat-screen TV and 24-hour room service. A lot of restaurant and hangout places are there out in the city. Lakeshore Hotel Gulshan wanted to set their image as an affordable luxury place to hang out.
PROBLEM
Lack of brand recall value/TOMA, which ultimately effects footfall on hotel premises.
CHALLENGE
Increasing brand recall by increasing interaction on social media
OBJECTIVES OF THE DIGITAL MARKETING PROGRAM
Drive 1.5 Million traffic to their Facebook page in a month
Raise awareness of brand throughout the city
Attract new sales leads through relevant content
Change focus from "shouting" at customers to "listening, engaging and inspiring"
STRATEGY
Lakeshore Hotel Gulshan partnered with ADN Digital to create an integrated social media plan that focused on leading the creation of an online community, developing outstanding content and using social media channels to drive new sales leads through their social media.
The company began with research to find out where customers were receiving their information, their participation in the social web, information needs and the current "state of the conversation" for the Lakeshore Hotel Gulshan brand. Key discoveries included that there were a lot of online communities for their industry. But, the mention of their brand was rare. Despite the fact that their historical customer base information was not used for the remarketing, ADN Digital saw an opportunity to seize the lead and increase the effectivity of the digital marketing program.
For the month of July, ADN Digital wanted to reach the maximum number of people who can remember the posts and offers of Lakeshore Hotel Gulshan. In this regard, for each of the 8 posts planned for a month, we ran a different "Ad Recall Lift" campaign. That way, we helped Lakeshore Hotel Gulshan to reach the maximum number of potential client by spending the most limited budget ever.
ACTIONS
> Conducted research to determine customer information needs and keyword themes.
> Developed a quarterly content plan based on themes established from research and feedback from top management of Lakeshore Hotel Gulshan. The content was leveraged and re-purposed in various ways across all the social media sites.
> Promoted original content through a variety of social media channels
CONTENTS
EXPENSE ON DIGITAL MARKETING
Total budget spent with all running campaign till date is $200
RESULTS
28+ Lac of Total impressions, with $0.00007 Cost per Impression
18.5+ Lac of Targeted users reached, with $0.0001 Cost per Reach
5 Thousand interaction in a month, with $0.01 Cost Per Result
Are you interested to boost the profit of your business also? Partner with us! Call us today at 01777770506 or send us an email at info@adndigital.com.bd