What is Ecommerce Business Intelligence?
Ecommerce Business Intelligence, lets you take all of your raw data, make analyze it, show you the information's that matters. Ecommerce Business Intelligence helps companies make more informed and better decisions about marketing, sales, and other areas of business expansion.
What is Business Intelligence?
Well, general Business Intelligence is a process of collecting, analyzing, and present business information. If you analyze the data correctly, it saves time and energy while giving you important information about the business and customers.
Why should Ecommerce Business Intelligence should be adopted?
''Retailers that have implemented personalization strategies see sales gains of 6-10%, a rate two to three times faster than other retailers, according to a report by Boston Consulting Group (BCG).''
What is an Ecommerce website?
An Ecommerce website involves in selling a product or service through the internet. Some, popular E-commerce websites in Bangladesh are- Daraz, Chaldal, Pickaboo, Bagdoom, and many more. Ecommerce site in Bangladesh is growing because of the internet is getting more accessible to the people. Especially, during this Covid-19 situation, there are many new E-commerce websites or online shopping sites in Bangladesh is being introduced.
These e commerce site in Bangladesh or online shopping sites in Bangladesh are not only product-based but also service based as well. All the popular brands have redefined their products and services to give the best to the customers.
For example, Daraz a leading Ecommerce site in Bangladesh has started to deliver grocery items to the customers. All other regular products are not being promoted or delivered much compared to the grocery items.
So, the right Ecommerce will engage customers and diversified with the current situation and improve your business line. This is why Website design and development service is very important. The more a Website has an option to become a dynamic website the greater is the chance to grab the market.
What is Front End Ecommerce Technologies?
Front End Ecommerce technologies mean, it the designing part of the Ecommerce website. It is the entity that the users see and browse an Ecommerce website. It's the collaborative work of UI designer and UX Engineer to make the Ecommerce Website more appealing to the users.
The main responsibility of Front End Ecommerce Technologies are-
Make the Ecommerce website look good,
Faster and Dynamic Website for the user
Increase mobile-friendly ecommerce site
A/B testing new features for e commerce in Bangladesh
Troubleshooting and debugging testing
Working on 3rd party tools for e commerce in Bangladesh.
What is Back End technology for an ecommerce website?
Here I will list out four important languages and frameworks which will be back end technology for the e-commerce website.
1. JAVA
Java is one of the best choices to build an ecommerce website. It is robust and flexible; you can adjust the designs according to your requirements. It also contains effective tools that help you to be a more dynamic website.
2. JAVASCRIPT
JavaScript is a famous programming language too. Unlike Java, it runs only on browsers. It contains coding and texts. It is useful to develop ecommerce websites with the code in HTML.
3. PHP
PHP is another most used language which is commonly known as Hypertext Preprocessor. PHP is mainly used for website development. PHP is one of the best choices for ecommerce website. Because of its functionality and various features to develop.
4. PYTHON
After PHP, Python is also more useful for developing ecommerce backend technology. Python is also a wonderful option to develop a website through ecommerce backend technology. It is efficient and flexible. Social media websites like Facebook and Instagram is also developed using Python.
How E-commerce Business Intelligence Can Help you Analysis ?
As the whole world is shifting to E-commerce related business. The Ecommerce buying model over the year is changing. To keep track of the business you need to incorporate data from different systems and make decisions. Then you will be able to cut costs and create a better strategy to move the business forward.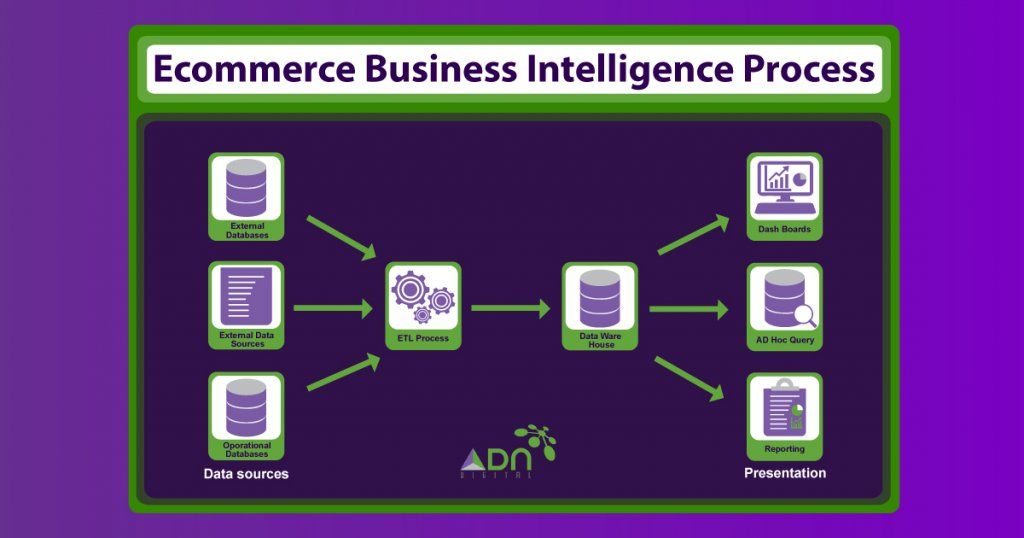 After all, Ecommerce Business Intelligence enables an eCommerce website in Bangladesh to recommend products, improving the search options and products using the method. In the same manner, other opportunities such as emerging business expansion using Business Intelligence to improve the customer journey. This alone could do through Business intelligence.
What is the Contribution of Ecommerce Business Intelligence for E-commerce Industry in Bangladesh
Business Intelligence required in all sorts of businesses. But to run efficiently an Ecommerce Business in Bangladesh, Business Intelligence is much needed. Some of the important matrices related to Bangladesh online shop or E-commerce business are-
Competitor Analysis: Business Intelligence process analyzes the competitors by finding out profitable advertising campaigns, which products are selling most, customer segments, product lines, product diversification, pricing analysis, product research, and many more.
This analytical data for Bangladesh ecommerce site gives a clear business and what are channels they should use to their marketing.
Market Trend Analysis: Business Intelligence also, analyses the trends of changing customer preferences and buying behavior to the E-commerce industry. Though, Bangladesh ecommerce site is sometimes doesn't analyse much before launching its websites.
2. Sales Report: Sales report is pretty important for any decision-making process. The sales report, taxes, discounts, coupons, promotional/special offers give significant information to get give hints of the future plan of the bd online shop industry or ecommerce industry.
Current E-commerce Industry situation in Bangladesh
The buyers and sellers both have much power thanks to the internet facility in Bangladesh. The ecommerce industry in Bangladesh is growing since 2016. Currently, the market of Ecommerce is expected to be equal to 70 billion by the end of this year. In 2016, $50 million was invested in the ecommerce sector in Bangladesh. Out of which, FDI was around $10 million.
Bangladesh's online shop, especially, B2C eCommerce market is worth 9 billion. This market has expanded up to 17 billion in 2017. And, it is expected to equal to 7 billion by the end of 2021, estimated by the eCommerce Association of Bangladesh(e-CAB).
Ecommerce Business Intelligence in the ASIA- Pacific is continuously growing. And Bangladesh is an honorable player in this business. The most, memorable part of the eCommerce industry is when, Chinese eCommerce giant Alibaba acquired leading bd online shop, Daraz.
Since the eCommerce sector has been growing over the years. There are many unwanted threats as well. Many foreign companies are entering the market. Increasing the competition and creating risk for the local eCommerce startups.
In Bangladesh, the ecommerce business is only centralized in Dhaka and Chattogram. Many eCommerce companies are failing to reach the whole country. Due to poor infrastructure and lack of adequate transportation facilities. That's why web design and development services will play a major role in the upcoming days. Based on, website design and development service the competition will be more intense and fairer.