[vc_row][vc_column][vc_column_text]Now a day's people spend most of their time on the internet for work, study, learning, and entertainment. Now all these commercial and social activities are connected to the internet. And without e-commerce the world around the internet is impossible and it is scary even to imagine that phase. Day by day the number of E-commerce sites in Bangladesh is increasing.
That's why e-commerce is essential in our daily life. E-commerce website is getting popular day by day in Bangladesh. Because many e-commerce websites in Bangladesh are offering free delivery, 24/7 order facility, same-day delivery, and many more.
People are looking for more comfortable options to do their shopping and online shopping is providing just that. With online shopping, users get to buy whatever they want from the comfort of their home. While its convenience is obvious, you also do not need to worry about security thanks to the rise of online shopping technology providers.
Here are some of the top E-Commerce sites in Bangladesh that are ruling the e-commerce platform-
Daraz
Daraz is one of the top E-Commerce sites in Bangladesh with a massive user. Currently, this is the number one online shopping website in Bangladesh considering the popularity. It is a huge online shopping platform where you get to buy clothes accessories, jewelry, footwear, furniture, gadgets even cars too.
Daraz has collaborated with leading brands like Yellow, Apex, Noir, Ecstasy, Texmart, and many others Brand. Daraz has built a custom website as per their requirements. Daraz Group operates e-commerce platforms and logistics services in Pakistan, Bangladesh, Nepal, Srilanka, and Myanmar. In May 2018, Daraz Group was acquired by the Chinese e-commerce company Alibaba Group. Daraz continues being the best E-commerce sites in Bangladesh for many years.

Pickaboo.com
Pickaboo is another trending site for online shopping. Developed in Magento, because it offers flexibility and customizability to each customer. An E-commerce website that is built in Magento has features like- Mobile and SEO friendly, fast loading time, Website design customization, multiple currencies and language options.
Now you don't have to wait long to get electronics products from abroad. You can have extraordinary arrangements, particularly on electronic devices and appliances, and economically evaluated choices here in one site. Pickaboo.com guarantee, 100% genuine items at the best price.
With the advantage of home delivery and spot purchase option, they provide EMI installment, alongside other prominent online payment facilities.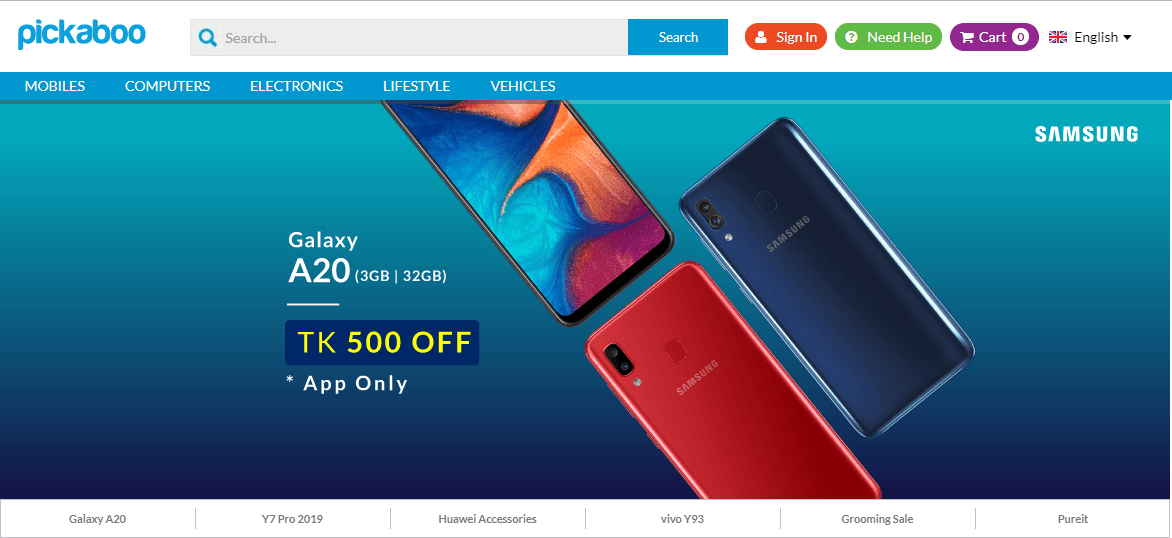 Bagdoom.com
Bagdoom.com has become another top e-commerce sites in Bangladesh. Bagdoom is developed in Magento and Magento provides users with a quick checkout process. No matter how many products you have or orders you receive, Magento is powerful enough to accommodate your needs.
It can manage hundreds of thousands of individual products, and the only limit to the number of products you carry is the size of your server.
It offers home appliances, toys, electronics, fashion accessories, sports, gifts, crafts. Recently, they have started to promote grocery items as well.
Bagdoom.com also provides its customers with discount coupons, free shipping inside Dhaka, and special discounts on different occasional days. It has a user-friendly Mobile App which makes the whole shopping process easier and convenient.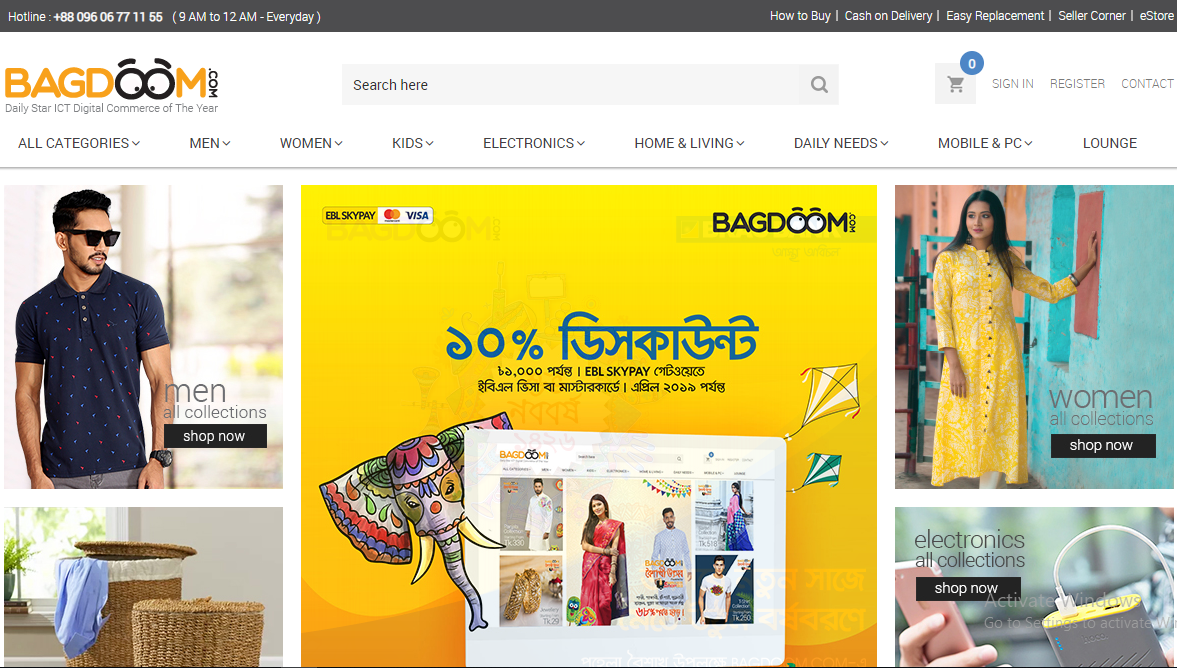 Othoba.com
Othoba.com is a sister concern of Pran_RFL group. Formed in 2015, othoba.com started to take up the different sector with their e-commerce website. Like- groceries, daily accessories, lifestyle product, electronics. Basically, one can find all the products of RFL brand in Othoba.com.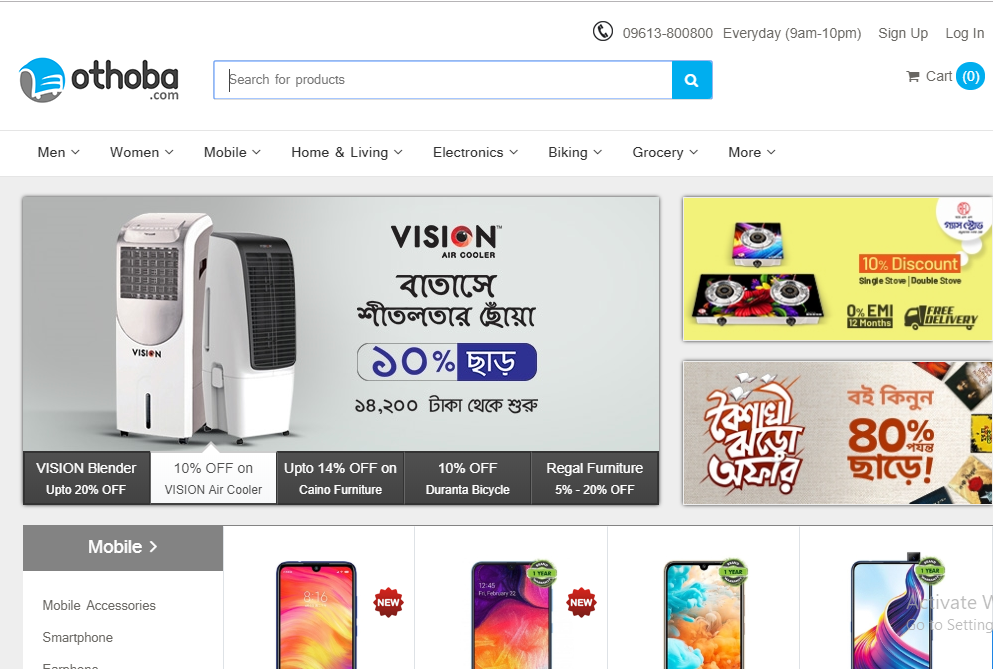 PriyoShop.com
Priyoshop.com is the ultimate online shopping destination for Bangladesh. They are offering a completely hassle-free shopping experience. They offer trendy and reliable shopping with all favorite brands. PriyoShop.com has been launched in February 2013.
PriyoShop.com showcases products from all categories such as clothing, footwear, jewelry, accessories, electronics, appliance, health care, beauty products, and still developing new categories.
Chaldal.com
Chaldal.com is an online shop for home appliances, food items, health and beauty products but mainly popular for its grocery items. Since we don't get much time to do grocery shopping every day. Their main motto is to save their customers valuable time.
This is why they deliver every day needs as fast as possible to their customers' door-steps across Dhaka. Recently chaldal.com is promoting their deals and offers through all the possible channels like Facebook, SMS, etc which help them to reach more and more customers.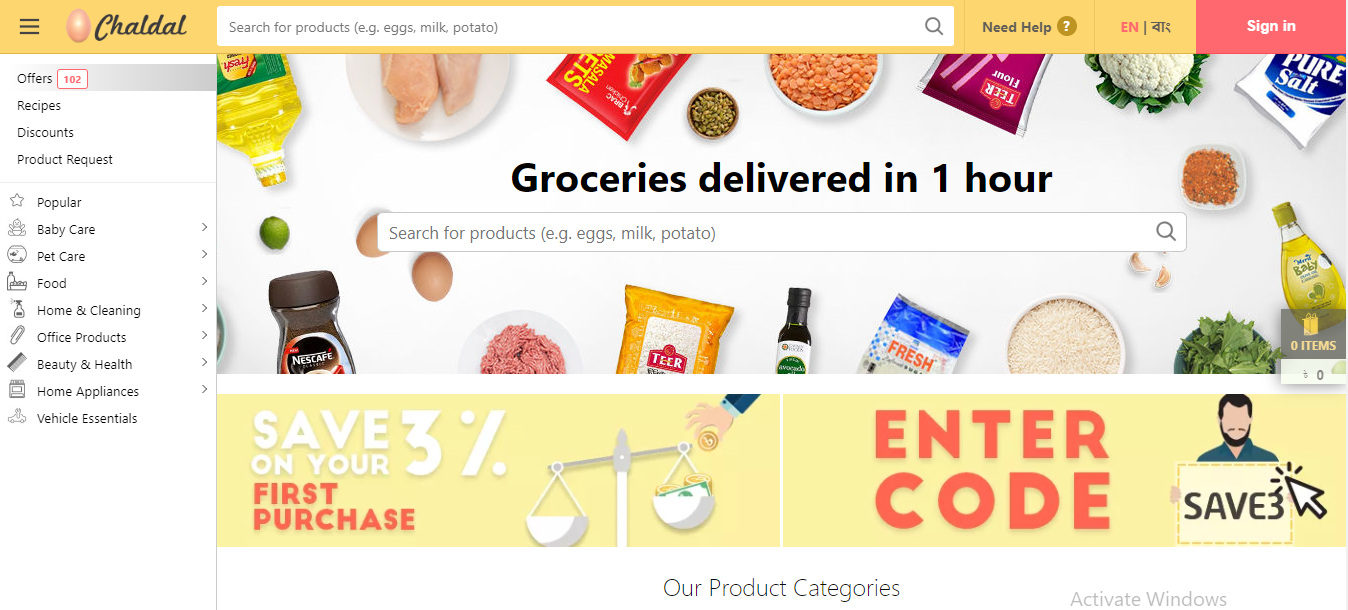 E-commerce is opening up the new ways of opportunity and promoting deals for online organizations. In the web and internet-based business world, to move up to the correct way, it is critical to fix your belt up and stay aware of new patterns. With consistent changes in patterns, here are some of the basic aspects of e-commerce website design.
There are thousands of websites around the world. Every one of them offers similar services. So, why will a customer choose you? Here's the importance of a highly developed website. If you are able to provide user-friendly, easy to use and get everything that the customer requires, that's the reason your ROI will be high.
So if you are looking for a Static & Dynamic or an eCommerce Website, we have got you covered. ADN Digital, provide best Web Development services. Our highly skilled and experienced developer can design or develop a website according to your requirement. We develop dynamic, cost-effective, and easy to use.
So far we have developed websites for many leading companies like Dhaka University, Nadia Furniture, Lakeshore Hotel and many more. So, you can easily rely on us.[/vc_column_text][vc_column_text]Summary of the content[/vc_column_text][vc_row_inner][vc_column_inner width="1/2″][vc_column_text]
Best E-commerce Sites in Bangladesh
Daraz
Pickaboo
Bagdoom
Othoba
PriyoShop
Chaldal
[/vc_column_text][/vc_column_inner][vc_column_inner width="1/2″][vc_single_image image="36395″ img_size="full" alignment="center"][/vc_column_inner][/vc_row_inner][/vc_column][/vc_row]