[:en]
With the holiday season in full swing, now is a perfect time for the travel industry to make the most of SMS marketing in Bangladesh. Travel agents can use SMS marketing to promote deals, new destinations and the all-important travel insurance among other offers. Text messages have an open rate of 99%, and according to FunMobility a click-through rate of 36%, so why wouldn't you want to use SMS marketing for your tourism business?
For the past decade, the travelling culture has completely transformed throughout the world. Tourism is currently one of the most fast-growing industries. People travel for many reasons: to see new things, for work, or to spend a weekend somewhere else. The rise in travel agencies has been tremendous, and so is the competition in the industry. Providing the best offers and staying relevant is a serious challenge for all such companies. In order to be competitive, you need to utilize the best SMS marketing techniques for your travel agency.
SMS Marketing for Travel & Tourism Sector in Bangladesh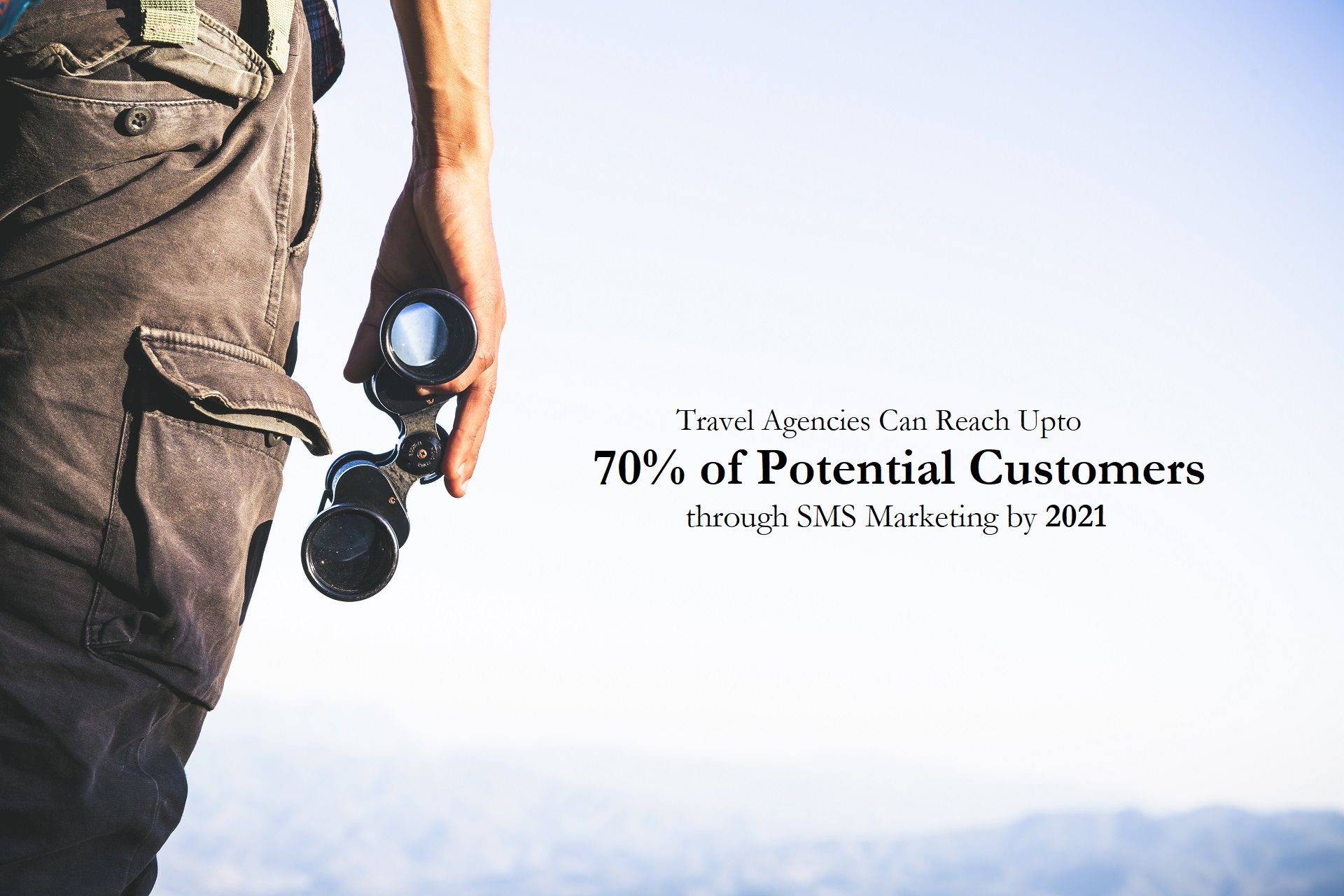 Modern-day consumers have higher expectations of service providers in all walks of life and their expectations of the travel industry are no exception. It's easier than ever for customers to make all their own travel arrangements themselves directly with their chosen hotel, activity provider, and carrier, so you need to entice them with tangible reasons to book their business travel or holiday through your agency.
It's estimated that the tourism and travel industry currently use SMS marketing to no more than 20% of its capacity – leaving 80% of untapped potential! It is also estimated that the rate of mobile opt-in for marketing SMS will rise by 70% by 2021. SMS is ideal for travel and tourism marketing. Done right, SMS marketing in Bangladesh can increase bookings through your agency, enhance the customer's experience, and develop a higher level of lasting brand loyalty.
Let's take a look into the ways how travel agencies are using SMS marketing for their business in Bangladesh.
How Travel Agencies Can Benefit from SMS Marketing in Bangladesh?

Confirm Bookings and Make Quick Updates
Travel agencies use SMS marketing to deliver peace of mind to their customers. Travelling usually involves a lot of fussiness. Making sure that everything is properly organized is time-consuming and tiring. That's why travel agencies use SMS services to reduce the stress level of the users.
An SMS alert about the upcoming booking must contain the most essential information about the trip. For example, nowadays, people love making bookings months and weeks in advance. So, SMS mass texting services also work as reminders. When the customer made booking months in advance, there's a big chance that he/she can mix up the exact date. So sending a message to remind them about an upcoming trip can be extremely beneficial. This will improve the overall experience with your brand and make the customers use your services again.
Another way of ensuring top class customer service is to provide them with a trackable and secure ticket via a text message. The aim is to make the booking process more convenient and less stressful for the customer. One of the most important benefits of text marketing is the immediacy at which you can connect to the customer. You can also use SMS texting to update the customers on any possible changes regarding their flight or booking. Ensuring superior customer service is essential for your business's future success. Only through effective customer support your travel agency can have repeat customers and improve its reputation in the industry.
Improved Customer Loyalty
Having a loyalty program is very important to industries where shoppers look through a bunch of deals, rather than just sticking to one business. Using Bulk SMS Marketing can increase customer retention and bring loyalty in the long run. So any travel industry business should have a loyalty program. The idea behind boosting your customers' loyalty is to make them feel special to you. Here's how you can do that via SMS services:
Special offers – use text messaging to make exclusive offers to your customers. For example, you can inform them about a special trip that is available for a limited time only. You can also provide your customers with a special promo code valid for specific trips and bookings.

Rewards – another way to create loyal customers is to reward them. Rewards are the business's way of saying thank you. If the customer has booked a trip from your agency, you definitely want to thank them and make sure that they will be back.
Hints – as your customer's another trip approaches, consider sending them helpful tips and bits of advice about the destination. For example, you can inform them about the expected weather or currency exchange. They will be very thankful.
Handling Emergency Situations
Travel agencies using SMS marketing have immediate access to the phones of their customers. Considering the usage of mobiles, it's the fastest and most reliable source of connecting with people and informing them about any emergency situation. Also, since most people carry their mobiles with them all the time, messaging can be used by the customer to contact your agency when lost or unaccounted for.
Purchase Bulk SMS Packages Online:
People take traveling seriously, so they will most surely choose a travel agency that they feel is reliable and professional. Brand building is closely related to the emotional attachment you're creating towards your company. As a travel agency, you want to be trustworthy and reliable. Your company should use SMS marketing to build its brand image. By providing continuous customer service via SMS to the customers, you make sure that you're increasing the trustworthiness of your business. When customers trust you, they are more loyal, the retention rate is high and you're increasing sales.
Enhanced customer service via text messaging is the most efficient form of SMS marketing. As the most widely used communication method, it makes a perfect sense to utilize the texting platform for keeping in touch with the customers.
If you own a Travel Agency in Bangladesh and want to reach the huge number of potential audience through bulk SMS campaign, do give us a call at
+8801777770516
. You can mail us at well at
info@adnsms.com
. In the meantime,
click here
to check our packages.
[:]