Software as a service or SaaS App Development service is considered to be the IT market's most prosperous branch. Forrester Research estimated an annual average market value growth of 56.2%. They also forecasted that, it will continue to grow at a rate of 18.9% per year by 2020.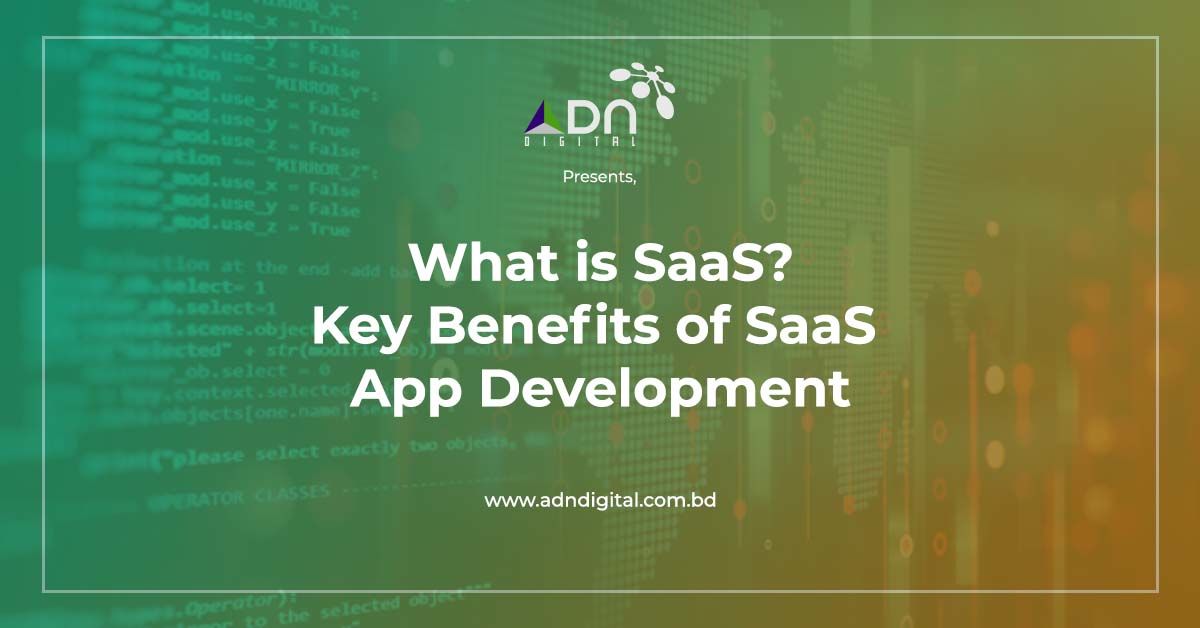 It comes as no surprise the rapid expansion of the SaaS market. This type of business model has many benefits that attract new entrepreneurs to follow the very model of software distribution. On the other hand, companies are more willing to choose SaaS over on-site apps, as this solution is more beneficial and secure.
What is SaaS App Development?
Software as a service (SaaS) is a software distribution model in which applications are hosted by a third-party provider and made available to customers on the Internet. In addition to infrastructure as a service (IaaS) and platform as a service (PaaS), SaaS is one of three main categories of cloud computing.
There is a SaaS app development service for basic business technologies such as email, sales management, customer relationship management (CRM), financial management, managing human resources (HRM), billing and collaboration. Salesforce, Oracle, SAP, Intuit, and Microsoft are leading SaaS providers.
Now SaaS is clear to you, right? If not, please let us know in the comment section below.
Why should you use SaaS for your business? What are the benefits of Software as a service (SaaS)?
When there is a need to choose which framework, technology, or programming language should be used during the development process, the SaaS App development company makes the final decision in most cases and the customer relies on the experience and skills of the developer.
But the SaaS App Development model chosen affects both the customer and the developer as different models have different pros and cons and require different strategies for development.
SaaS eliminates the need for organizations to install and run apps on their own computers or data centers. This eliminates the cost of acquiring, supplying, and maintaining hardware, as well as licensing, installing, and supporting software. Other SaaS model benefits include:
Personalization and Customization SaaS App Development
Products supplied in the SaaS model can be easily adapted to the needs of specific customers. Most of these companies offer fixed subscription plans, but they also offer the option of changing settings and functionalities to more accurately meet customer needs. Price is, of course, settled individually according to custom software. Moreover, many SaaS providers provide access to their APIs to allow you to integrate with existing systems.
Pay Per Use
As no license fee is required, there are no upfront costs related to purchasing a SaaS application. Customers are not required to purchase a complete product. If a customer requires a piece of software for a limited period of time or for one purpose, the customer pays only for a specific period of time. Subscriptions can be usually halted at any moment. The risk of the buyer is reduced to the minimum.
Automatic Updates
When you buy and install a licensed software on your computer, you need to remember to constantly update it. If you are using cloud software, a SaaS provider will automate and deploy all the updates. You don't have to download and install any patches for your applications, it's automatically done for you.
Easy User Interface and Speedy
It has never been an easy task to select and deploy a business application. Factors like time and effort are stacking up, even after successful implementation. Cloud applications are deployed faster so that installation and administration efforts are reduced.
Having the ability to quickly develop and deploy will allow one to have a competitive edge and also the ability to accelerate the benefits of the SaaS App Development business. SaaS creates much faster value for its users and also offers businesses the flexibility they need to bring change when they need it.
Accessible from Any Location
One of the licensed software's biggest disadvantages is its limited accessibility. Usually, a license is dedicated to a specified number of devices and on a foreign computer, you can't use it. You can access it at any time with the Internet connection from any device with SaaS. In working with software, it increases your mobility and independence.
In Summary, the benefits of using SaaS App Development for your business are:
The initial cost is lower
Short implementation time
Rapidly scaling
Limited need for staff
Release management, database management, and other technical issues are handled by the vendor
Minimal staff training is required
Wrapping up
The number of companies using cloud-based apps with the SaaS App business model is increasing, the reason being that it is based on the subscription model and has many advantages. Age-old business applications are now leaving many companies ' current IT plans. The ability to deploy quickly with lower investment risk has made business owners choose SaaS App Development solutions over alternative options.
Businesses have constantly been searching for solutions that meet organizational requirements such as data security and high performance, and SaaS fits the requirement in such scenarios. ADN Digital can provide you SaaS solution that will meet your exact business needs. Just call 01777-770506 or send an email at mazharul@adndigitalbd.com to get a quote.
If you have any disagreement with the points stated above, please comment below and let us know it.